Vindicator



Type

Hostile

Health

Damage Dealt

Drops

0-1 Emeralds,
0-1 Iron Axe

First Appearance

Update 1.1
Vindicators are Hostile Mobs added in Update 1.1.
Spawning
Vindicators spawn in Woodland Mansions upon generation. They do not respawn.
Vindicators have a chance to spawn wielding an Enchanted Iron Axe on Normal or Hard Difficulty.
Behavior
Vindicators are Hostile towards all Players and Villagers. They wield an Iron Axe in their right hand, and try to attack by sprinting at their target. When idle, they cross their arms similar to a Villager, and don't hold the Axe in their hand.
Combat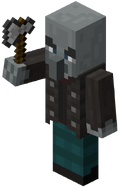 Because of the large amount of damage that Vindicators deal, it is best to use a Bow; but a combination of strong armor and an Iron or Diamond Sword can also be effective.
Trivia
Vindicators share a very similar appearance to Villagers.

Easter Egg:

If a Vindicator is named Johnny, it will be hostile to all Mobs, except for Evokers and other Vindicators.

This is a reference to "Here's Johnny." in the movie The Shining.

Vindicators and Evokers are the only two types of Illagers currently in Minecraft.

Bug:

In the 1.1 beta, Vindicators' axes were held on their shoulder.
Community content is available under
CC-BY-SA
unless otherwise noted.