Update 1.1 (a.k.a. The Discovery Update[1]) was an update for Minecraft that was released on June 1, 2017.[2]. See changelog.
Changelogs
The following list links the changelogs related to Update 1.1:
Additions
General
Mobs' movements can now be changed using Add-Ons
Off-hand slot

Works for Arrows and Totem of Undying only

Smooth Lighting Toggle Option
Skyrim Mash-Up Pack
Blocks
Items
Llama Spawn Egg
Vex Spawn Egg
Vindicator Spawn Egg
Evoker Spawn Egg
Mobs
Commands
New Gamerules

DoFireTick
DoMobSpawning
DoTileDrop
Mob Griefing
DoEntityDrops
KeepInventory
DoMobLoot
DoDaylightCycle
Generated Structures
Enchantments
Frost Walker Enchantment
Mending Enchantment
Tweaks
General
Changes in world generation
CanPlaceOn & CanDestroy are now supported in the '/replaceitem' command
/locate command will now find more structures
Worlds will now show a screenshot in the main menu
The hearts, hunger bar, armor bar, and breathing bar are now above the hot bar (Classic UI only)
Blocks
New Wool Textures
Beds can now be dyed
Beds now have 3D legs 
Beds are now "bouncy"
The red bed texture is no longer named "Bed" anymore, it is now named "Red Bed"
Stained Clay has been renamed Terracotta
Controls
Dampened the vertical look speed when using a controller
Improved navigation of the settings screen when using a controller
The X button can now be used to clear the hotbar on the Creative inventory screen when using a controller
Improved controller input when selecting items on the Creative inventory screen
Items
Maps are now numbered for easy distinguishing
Empty Maps with Compasses have been renamed to Locator Maps to distinguish between Empty Maps without Compasses
Improved Lead rope physics
Enchanted Golden Apples are now renamed to Enchanted Apples
Mobs
Cave Spiders now attack with poison time based on difficulty
Generated Structures
Igloos now generate with White Beds
Mechanics
New sleeping animation
Eating animation can now be seen in third-person camera
Gallery
References
Video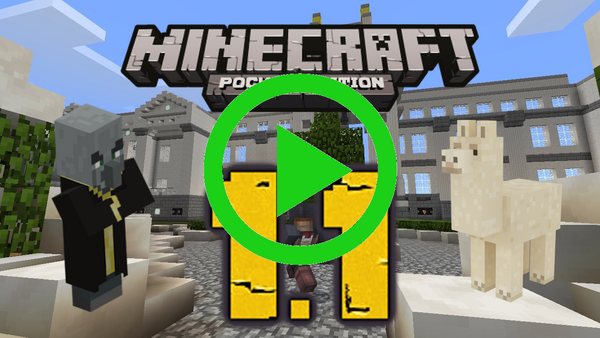 Community content is available under
CC-BY-SA
unless otherwise noted.