Update 0.11.0 was an update for Minecraft Android version that was released on June 4th 2015 for iOS and June 5th 2015.
Additions
General
Blocks & Items
Mobs
Inventory Editing
Food
Items
Inventory Editing
Generated Structures
Status Effects
All Status Effects except Night Vision, Blindness, Health Boost, and Absorption.

Only Nausea, Hunger, and Poison are obtainable.
The rest by inventory editing, mods or servers.
Creative Inventory
Spawn Eggs
Bat Spawn Egg
Squid Spawn Egg
Cave Spider Spawn Egg
Magma Cube Spawn Egg
Skins
Added default Skin: Alex
Can still use Steve
City Folk Skin Pack
Town Folk Skin Pack
Custom Skins
Options
Rename Worlds
Changing Game Mode
Lock/Unlock Daylight Cycle
Make Old Worlds Infinite
Added View Bobbing Slider
Tweaks
General
Players in Creative Mode can no longer be set on fire.
Players cannot die from The Void in Creative Mode.
Blocks & Items
Mobs
Bug Fixes
Mobs can't walk through doors.
Mobs can't walk through closed doors.
Increased amount of Gravel on Mutated Extreme Hills Biome.
Destroying Nether Reactor Core before it deactivates causes eternal night.
Wooden Axe can't be used as Fuel.
Mossy Cobblestone spawns underwater.
Cave Spiders have no eyes.
Bone Meal doesn't work.
Mossy Cobblestone item name incorrect.
Cocoa Beans don't grow.
Minecarts disappear after saving.
Arrows bounce off Wolves and dogs.
Iron Bars don't connect to Glass Panes.
Rare Duplication Glitch by pressing hot-bar next to 2 of any stackable item.
Game crashes when placing/destroying a Sign.
Game crashes when switch gamemodes while in Multiplayer.
Gallery
Video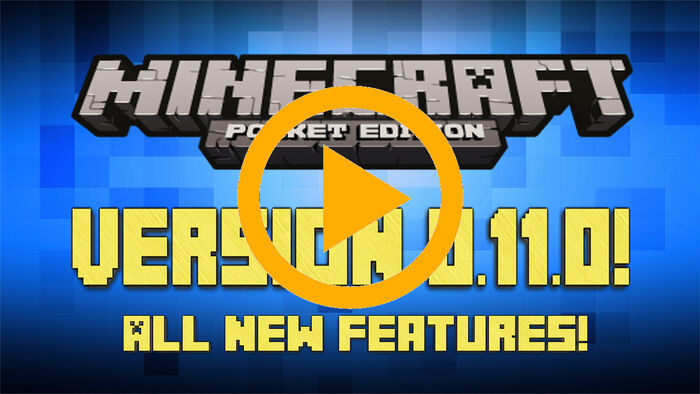 Community content is available under
CC-BY-SA
unless otherwise noted.