Nether Wart

The Stages of Nether Wart Growth

Type

Non-solid Block

Tool Used

Any

Stackable

Yes (64)

Luminosity

None

Transparency

Yes

First Appearance

Update 0.12.1
Nether Wart
is a plant 
Block
added in 
Update 0.12.1
. It can be found growing in the 
Nether
 dimension, and is a key ingredient in 
Potions
.
Obtaining
Nether Warts can be found growing naturally in Nether Fortresses on Soul Sand patches, or in Nether Fortress Chests.
Farming
Nether Wart can be grown in both the Overworld and the Nether. It is currently the only crop to grow on Soul Sand and doesn't require any Liquid. Unlike other crops, it is not affected by Bone Meal in any way.
Crafting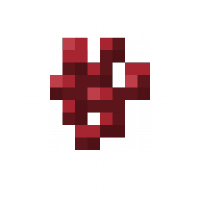 Brewing
1 Water Bottle + 1 Nether Wart => 1 Awkward Potion
Usage
Nether Wart is used to brew Awkward Potion, which is the base for almost all other potions. It can also be used to Breed Chickens, but it cannot be used to lure them. After Update 1.2, Nether Wart will be used for crafting Nether Wart Blocks.
Trivia
Nether Wart makes the same sounds as Stone when destroyed.

Bug:

Before Update 0.14.0, Nether Wart could not be broken by hand.

Bug:

When Nether Wart is fully grown, it reverts to the texture used for the first stage.
Community content is available under
CC-BY-SA
unless otherwise noted.