Horse Armor

The 4 types of Horse Armor

Type

Armor

Stackable

No

Placeable

No

First Appearance
Horse Armor is a special type of Armor which gives Horses armor points.
Obtaining
Horse Armor can be found in Chests in Generated Structures like Villages, Dungeons, Desert Temples, etc. Leather Horse Armor is also Craftable using Leather.
Crafting
7 Leather => 1 Leather Horse Armor
Usage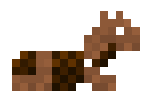 There are 4 types of horse armor in Minecraft:
Bedrock Exclusive:

Leather Horse Armor
Iron Horse Armor
Gold Horse Armor
Diamond Horse Armor
Each tier gives a better amount of protection to the Horse. Leather Horse Armor can also be dyed by tapping on a Cauldron filled with dyed Water, making it a useful vanity item for the Horse.
Trivia
Horse Armor cannot be Enchanted.
Gold Horse Armor gives a Horse higher protection than Iron Horse Armor, contrary to Player Armor.
Leather Horse Armor is the only horse armor that can be crafted.
Community content is available under
CC-BY-SA
unless otherwise noted.