Drowned
are
Hostile Mobs
that were added in 
Update 1.2.13
 under the experimantal gameplay toggle. They were officially implemented in
Update 1.5
.
Spawning
Drowned will spawn in all Oceans and Rivers, and may spawn from drowned Zombies. Drowned may spawn with a Trident or a Fishing Rod in their hand.
Behavior
Drowned are an underwater variant of Zombies. They will walk and swim in Oceans and Rivers, and attack any Player upon sight. When a Drowned spawns on land, it will immediately advance towards the nearest Water source, even during the night.
Combat
Drowned can easily be defeated using a high-tier Sword.
Trivia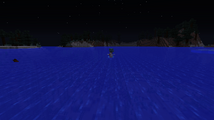 Community content is available under
CC-BY-SA
unless otherwise noted.