Command Block

The 3 Types of Command Blocks

Type

Block

Tool Used

Unbreakable

Stackable

Yes (64)

Luminosity

None

Transparency

None

First Appearance

Update 1.0.5
Command Blocks
are
Blocks
that were added in
Update 1.0.5
.
Types
There are 3 types of Command Blocks in Minecraft:
Impulse: Impulse Command Blocks are orange. These function once they are activated (Or when the command is set if Needs Redstone is off).
Chain: Chain Command Blocks are green. These execute only after the Command Block pointing to it is processed.
Repeat: Repeat Command Blocks are purple. These will execute their commands once per tick as long as they are activated.
Obtaining
Command Blocks can only be obtained by using Commands. They are not available in the Creative Inventory, and cannot be obtained naturally in Survival Mode. The command used is /give @p command_block.
Usage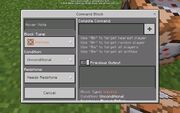 To use a Command Block, the Player must type a Command into the Command Block, and then power it using a Redstone power source (There is a way to set the command block so that it doesn't need redstone power and will execute the instant the Player sets the command. Turn "Needs Redstone" to off). If the command has been input correctly, it will be executed.
For example, typing /kill in a Command Block and powering it will kill the Player.
Note: Command arguments for a Command Block are executed relative to the command block placement, and can use target selectors as indicated in the argument section of the Commands page.
Trivia
Command Blocks cannot be moved by Pistons.
If the Player takes a close inspection, they can see the "buttons" of the Command Block pulsing in different colors.

Bedrock Exclusive:

Command Blocks since the Update 1.0.5 Beta don't have the same Blast Resistance as Bedrock, and can be destroyed by strong explosions such as lightning or the Wither.

However, it is unknown whether this is a bug.

In Survival Mode, the Player cannot place or access Command Blocks.
Community content is available under
CC-BY-SA
unless otherwise noted.