Cat



Type

Passive

Health

Drops

0-2 Strings

First Appearance

Update 1.8
Cats
are
Passive Mobs
added in
Update 1.8
. They spawn exclusively in
Villages
.
Spawn
Cats will spawn in any type of Village. A black Cat may also spawn inside a Witch Hut.
Taming
A player can tame an Cat with Raw Fish or Raw Salmon. When tamed, the Cat wears a collar and the player can make them sit or follow.
Behavior
UNDER WORK
Tamed Cats will purposely try to sit on Chests, Beds, Furnaces, etc. to simulate the behavior of real cats. The Player cannot access it unless he/she pushes it off.
Cats will hunt and kill Rabbits.
Cats do not take fall damage, along with the Ocelot, Chicken, Snow Golem, large and medium Slime, Magma Cube and Iron Golem.
Cats may, in rare cases, teleport close to a player without any notable reason.
Skins
There are eleven possible cat spawns: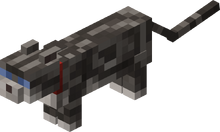 Tabby (Brown and white with yellow eyes)
Tuxedo (Black and white with green eyes)
Red (Orange and white with green eyes)
Siamese (White and pale brown with blue eyes)
British Shorthair (Silver with yellow eyes)
Calico (Orange, white and dark brown with yellow and blue eyes)
Persian (Creamy with blue eyes)
Ragdoll (White and soft amber with blue eyes)
White (White with light blue and yellow eyes)
Jellie (Gray and white with gray-green eyes)
Black (Black with orange eyes)
Trivia
Before Update 1.8, Cats were the tamed form of Ocelots. At this time, there were only three possible skins for a cat; Tabby, Tuxedo, or Siamese.
A competition announced at Minecon Earth 2018 gave the opportunity for one real-life cat to be immortalised as the ninth cat skin. The winner of this competition was Jellie, whose owner is a YouTuber known as GoodTimesWithScar.
The Tuxedo variant of Cats is based on Jeb's deceased cat, Newton.
If a cat sits on a chest, it cannot be opened, and if one sits on a bed, players will not be able to sleep in it.
A standing cat can breed with a sitting cat as normal, although only the standing cat will move. Likewise, two sitting cats WILL breed provided they are close enough to eachother. If either parent is sitting the baby will also be sitting.
Wolves will not attack cats.
Community content is available under
CC-BY-SA
unless otherwise noted.