Armor Stand



Type

Entity

Stackable

Yes (16)

Placeable

Yes

First Appearance

Update 1.2
Armor Stands are a feature in Minecraft. They were added in Update 1.2. 
Obtaining
Armor Stands can be obtained by Crafting them in a Crafting Table.
Crafting
Usage
Armor Stands are used to store Armor, Mob Heads and Pumpkins. Banners can also be applied to Armor Stands using Dispensers.
Bedrock Exclusive: Pressing Equip or holding down on an empty spot on the Armor Stand will place an item on it.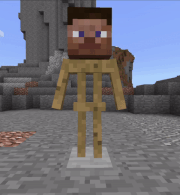 Bedrock Exclusive: Armor Stands can change poses, either by sending a Redstone signal into it, or by pushing the Pose button (available when crouching and looking at the Armor Stand).
Trivia
Armor Stands can be caught by a fishing rod like other entities.
Because Armor Stands are Entities, they obey Gravity, which allows them to fall and rest on non-full Blocks such as Enchantment Tables, Top Snow, and Slabs.
Armor Stands can be pushed by Pistons.
Armor Stands can also be moved by running water.
Including the standard pose, there are thirteen poses available.
Community content is available under
CC-BY-SA
unless otherwise noted.